Foreign
Songs
Tom MacDonald, Adam Calhoun – In God We Trust | Mp3
Free Music download [In God We Trust by Tom MacDonald, Adam Calhoun]
---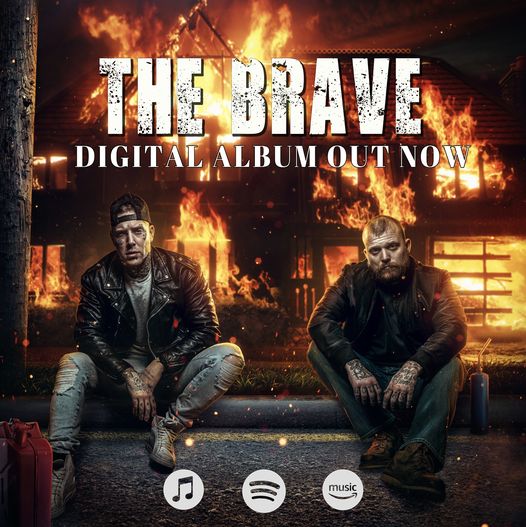 Canadian rapper, songwriter, and former professional wrestler Tom MacDonald has joined forces with another American rapper Adam Calhoun and Struggle Jennings & Nova Rockafeller to deliver another hit dubbed "In God We Trust".
Thomas MacDonald is an independent singer who rose to fame last year after releasing his singles "Whiteboy", "Fake Woke", "Snowflakes" and "Brainwashed" which all appeared on the Billboard Hot 100 in 2021. He has the world right now focused on him with his new album which is his first ever studio album. The title of the album is "The Brave."
The new song, In God We Trust is part of his latest project which consists of a total of fourteen (14) soundtrack including the previously released singles, Whiteboyz and New World Order. The whole content of the album are so wonderfully made. You can check them out.
It was officially released on the 4th of March 2022. However, the songs were released to limited streaming platforms including Apple music.
In God We Trust by Tom MacDonald, Adam Calhoun Struggle Jennings & Nova Rockafeller Quotable Lyrics
They separate us from our neighbors and they call it social distancing
It's actually a bigger plan, it's called social conditioning
They took away our privacy there's always someone listening
They're rigging the elections, planning riots for the citizens
The government has always lied, it's history repeating
But the problem is the schools dumb you down so you believe 'em
If you try to speak the truth inside a Tweet then they delete it
Whole administration's Satanist who claim they praising Jesus
Every year there's a new name for enemies that we're facing it
Al Qaeda, then ISIS, and now American patriots
Who woulda thought those who love the country the most
Would be hated on by folks who call America home
Both political parties are equally just as evil
They been working for themselves, don't give a damn 'bout the people
Black, white, yellow, brown, humanity needs you
'Cause united we stand, divided they will defeat you
The man on the news says the problem is me
I'm just a small-town boy with big American dreams
The world's going crazy and they lying to us
Don't know who to believe, so in God we trust
Song: In God We Trust
Artist: Tom MacDonald, Adam Calhoun
Genre: Hip Hop
Duration: 4:01
Year: 2022
You can listen or download the free mp3 below.
If you like this content, kindly share to your friends with the following share options below:
---
Related Posts
---
No one has commented yet. Be the first!