Songs
DaBaby, NBA YoungBoy – Syracuse | Mp3
Free Music download [DaBaby, NBA YoungBoy – Turbo]
---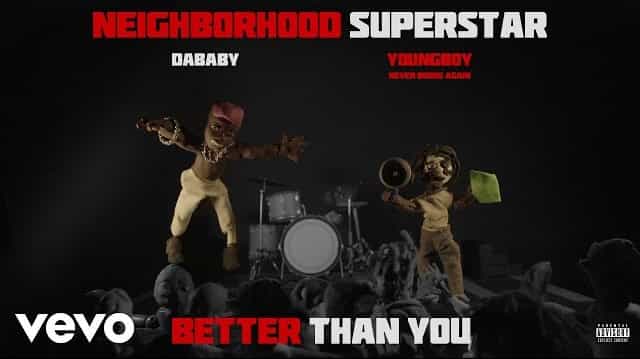 Popular American rap star, Jonathan Lyndale, well known by his stage name as DaBaby has joined forces with another brilliant young rapper, NBA YoungBoy to deliver another unique hit jam titled " Syracuse".
Dababy – real name – Jonathan Lyndale Kirk, known professionally is a top class American rapper and music entertainer who after releasing several mixtapes between 2014 and 2018, he rose to widespread prominence in 2019.  He is a  real hard working musician and a consistent rapper which has in turn rewarded him.
The new song, Syracuse is taken off their joint studio album, "Better Than You" which consists of 12 songs and it comes as a follow up to their first successful collaboration, JUMP. The currently most controversial two rappers has come together to unleash another sound.
The production credit of the song is assigned to Cardo & Sheila's Son.
Finally, the new single was released on several streaming platforms on the 4th of March 2022. Go get your hands on it with the link below.
DaBaby, NBA YoungBoy – Syracuse Quotable Lyrics
[Intro: YoungBoy Never Broke Again]
Let's go!
[Chorus: YoungBoy Never Broke Again]
Glizzy, glizzy, show 'em what that Draco do (Blatt! Blatt!)
She wan' sit next to, pass that drank from Syracuse (Ha! Ha!)
Millions, millions, Bentley, Bentley, Lamb' truck too (Yeah! Yeah!)
Biggest villain, millions, me, I spend 'em too
[Verse 1: YoungBoy Never Broke Again]
I won't lie, can't trust more drugs than me (Let's go!)
Flood my wrist on all these girls (Spend my money, I been spendin', nigga)
Okay, I already know I'm paid
Chop with the knife, get slayed (Yeah)
Twenty-five niggas on stage (Yeah)
Got the ho crying in a rage (Top, top)
Bitch give me top!
Mask on pivot, masquerade
Watch how I surf, I'm in a rave
Try me, takе off all his face (Bop! Bop! Brrr, boom)
I got drugs, I'm 'bouta be [?]
All in the bank, I wrotе my name
I got too much money, can't fit in no safe
Song: Syracuse
Artist: DaBaby, NBA YoungBoy
Genre: Hip hop
Duration: 2:05
Year: 2022
You can listen or download the free mp3 below.
If you like this content, kindly share to your friends with the following share options below:
---
Related Posts
---
No one has commented yet. Be the first!