Biography and NetWorth
Yung Joc Biography, Age ,Net Worth, Wiki, Real Name, Children, Instagram, Parents, partner
---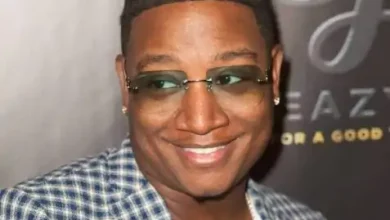 Yung Joc, whose real name is Jasiel Amon Robinson, is a well-known American rapper recognized for his 2006 hit single "It's Goin' Down." Born on September 20, 1980, in Atlanta, Georgia, Yung Joc's journey into the music industry started with a unique opportunity given to him by his father, who ran a business making hair care products. This article will take you through his early life, successful music career, personal life, and social media presence.
Yung Joc Early Life and Education:
Yung Joc's father provided him with a chance to work on a Revlon jingle, sparking his interest in music. He later established his own record label, "Mastermind," to distribute his music and kickstart his career in the industry.
Yung Joc Career:
In the spring of 2005, Yung Joc collaborated with Atlanta producer Nitti Beatz to record his smash hit song, "It's Goin' Down." This successful collaboration led to Russell "Block" Spencer, head of Block Enterprises, signing Yung Joc to Sean Combs' Bad Boy South for a significant sum. In the same year, Bad Boy released Yung Joc's debut album, "New Joc City."
The rapper gained immense popularity in 2006, earning almost $10 million and securing the 20th spot on "Forbes' Richest Rappers List." "It's Goin' Down" reached No. 1 on the Hot Rap Tracks chart and No. 3 on the Billboard Hot 100. Following its success, his next single "I Know U See It" reached No. 17 on the Hot 100 and No. 2 on the Hot Rap Tracks charts.
In 2007, Yung Joc's album "Hustlenomics" was released, featuring the hit singles "Coffee Shop" and "Bottle Poppin'." The album debuted at number three on the Billboard 200, selling 69,000 copies in its first week.
Apart from his solo work, Yung Joc collaborated with various artists, such as Cassie on the track "Call U Out" and Danity Kane on "Show Stopper" from Diddy's Making The Band 4.
Yung Joc Personal Life:
On November 7, 2021, Yung Joc married Kendra Robinson, a prominent cast member of Love & Hip Hop: Atlanta. He is a father to nine children from five different women as of 2022.
Yung Joc Net Worth:
$4 million
Albums: Throughout his career, Yung Joc has released several albums, including "New Joc City" (2006), "Hustlenomics" (2007), "The Grind Flu" (2009), and "Mr. Robinson's Neighborhood" (2017).
Yung Joc Social Media Presence:
To stay connected with his fans, Yung Joc is active on social media platforms. You can find him on Instagram as @joclive and on Twitter as @IAMYUNGJOC.
Conclusion:
Yung Joc's journey in the music industry has been marked by his hit singles and successful albums, earning him a net worth of $4 million. With his talent and passion for music, he continues to be a prominent figure in the American rap scene.
---
---
No one has commented yet. Be the first!